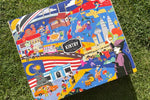 5 Unique Malaysian Gifts Ideas that You Can Give to Your Non-Malaysian Friends
Giving gifts is one of the best practises that you can do if you want to introduce your culture, especially if you're a foreigner. If you're a Malaysian and are looking for some unique gift ideas, you've come to the right place! 
In this article, we've collated some gifts that you can proudly give to your non-Malaysian friends that tell a lot about our culture that they will surely appreciate! 
Check them out below:
1. Oldtown Coffee
It's hard to beat a cup of coffee! It's a good thing that Malaysia has its own coffee brand because it can satisfy even the most ardent coffee enthusiasts. The rich, creamy flavour of Oldtown White Coffee has made it a household name in Malaysia and has even expanded to 17 countries around the world. You can choose from a variety of flavours, including the traditional 3-in-1 coffee, hazelnut, Teh Tarik, and O Kosong!
In the event that you find it awkward to bring powdered coffee into the workplace, you may just hand out Oldtown Coffee's canned drinks instead for them to enjoy the coffee right away!
2. Batik
A piece of Batik textile is yet another one-of-a-kind gift option available in Malaysia. Despite the fact that the Javanese were the ones who developed the technique, Malaysia has been using it for a very long time.
You have free access to a wide variety of Batik goods whenever you walk around Malaysia's shopping district or when you check out Batik Boutique, any of which would be excellent presents such as shirts, dresses, or printed in household products are perfect to give to your friends! 
3. Pewter Products
Consider Pewter if you've got an extra budget for a gift and want to go the extra mile. Pewter, a metal alloy of tin and lead, is among the most popular Malaysian souvenirs that you can give.
Pewter may be used to make a wide variety of Malaysian goods, and its quality is simply not to be ignored. However, keep in mind that authentic pewter can be somewhat pricey, such as Royal Selangor, whilst some dupe stores sell pewter of good quality at a price that is more affordable. Pewter is an excellent choice for a variety of items, including dinner plates, teacups and saucers, and even event teapots.
4. Dodol Sweets
Dodol is another gift that would be ideal for you if you are searching for something that would be convenient to take along with you everywhere you go.
You have probably experienced its chewy flavour, which is comparable to that of toffee, and its dark brown colour. They are now available in a variety of flavours such as durian and pandan, which makes them a unique gift that you can offer to your friends who aren't familiar with the said treat.
5. Kintry Gift Sets
Lastly, but not least, you should also consider the artisan food products that Kintry has to offer. The company is pleased to have its origins in Malaysia, and the snacks that they sell are suitable for people of any age. In addition to providing delightful snacks, Kintry has also been working with a number of Malaysian artists to showcase the artists' respective works.
The Salted Egg Yolk Potato Crisps, Chocolate Hazelnut Granola, and Macadamia Cookies with White Chocolate Chips are a few of Kintry's items that you just have to try! In addition to that, you can also look through their gift boxes, from which you may select a variety of sets along with unique add-ons!
Are you ready to show your friends how proud you are of Malaysia by giving them one of these gifts? We sincerely hope that this article has helped you in selecting the ideal gifts!

Sources: